As the year comes to an end, we have some exciting news for you. Most importantly, we are changing how volunteering for the DRL works, and thus want to invite you to join us and become one of our Editors!
Call for Editors
The Editor role is the most prestigious role in the DRL. Taking it on shows a continued commitment to improving the discipline and growing your own teaching and research experience, and can become a valuable point on your CV.
As an Editor, you will be responsible for maintaining categories corresponding to your AOS. Normally you would take on the role for a year with an option to extend. To apply, you must have at least one year of teaching experience.
The job has two components:
Editing entries contributed by other volunteers and the public, and generally maintaining your category by spotting problems, suggesting improvements, and so on.
Adding new entries (recommended: 10 / year) and/or expanding existing stub entries (recommended: 20 / year). This might seem like a very small number, but we realise that it can be hard to fit this additional job in between other responsibilities.
The benefits of taking on the role are:
You are first in line for any grants we receive that match your AOS
Your name listed on the DRL site as an Editor (Past Editor once you step down)
Your name listed by every entry you add or edit
Improve your research and teaching by exploring new readings in your AOS
Workload: up to 5h per month, spread out to match your availability.
If you are interested, please get in touch now. Please also forward this note to anyone you think might be interested.
News
Seminar on EcoFeminism
Last month we hosted an online seminar titled: Creative Resistance and Environmental Justice: Rethinking Ecofeminism. It was a great event, including talks by Manisha Rao (University of Mumbai), Christa Wichterich (University of Kassel), Lori Gruen (Wesleyan) and Nicole Seymour (California State University). You can find the details of all the talks on our Events page, and watch the recordings on our YouTube channel. Huge thanks to Suddhasatwa Guharoy (featured below) and Julia Costet for organising!
Feminist Philosophy of Mind reading group
Some of our volunteers are currently preparing a new Reading Group Blueprint based on an anthology edited by Keya Maitra and Jennifer McWeeny. They decided to try things the other way: first run a reading group and construct a Blueprint on its basis. The group is hosted in Glasgow but meets online every other Wednesday – and you can still join! You can find the details on our Events page, or register directly here.
A new Volunteering page
Would like to volunteer for us but don't know what to expect? We just put together a new Volunteer Page which can offer you some insight into what it is like to join the DRL Team, including testimonials by our existing volunteers. Please check it out and share it widely and help us expand our Team!
Volunteer Spotlight: Suddhasatwa Guharoy (he, him)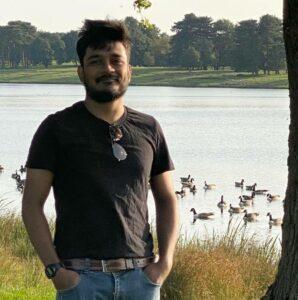 I am a final year PhD student at the University of Manchester and have been volunteering for the DRL for over a year now. In that time, I have co-authored a Blueprint on Post-Colonial Theory, Race and Caste and recently co-organised a seminar on Creative Resistance and Feminist Ecologies.
The administrative support offered by the DRL is great and really helped me with both the blueprint and the event. Both of these experiences have intellectually enriched me. What I find most important, is that the DRL provides the right platform for philosophy to engage with issues outside the ambit of what is assumed to be the usual concerns of the Anglophone canon. I am very satisfied as a volunteer, and I am sure people will find the DRL content stimulating.
Get involved, get funded!
We continuously expand our list and you can help us by contributing content via our contribution page.
We couldn't do what we do without the help of our fantastic volunteers. Check out our Volunteer Page to find out more, and join the Team! There are so many ways to get involved: creating new Reading Group Blueprints; becoming an editor; adding new list entries; organising events, promoting, and much more.
As a volunteer, you will also have access to the funding we receive for various projects we run. Get in touch to find out more!
Thanks so much again for all your support,
The DRL Team