Subscribe to our newsletter to hear about our future events!
---
Feminist Philosophy of Mind
19 October – 5 April 2023, Fortnightly on Wed, 5pm UK time via Zoom.
A reading group based on a book anthology under the same title, edited by Keya Maitra and Jennifer McWeeny.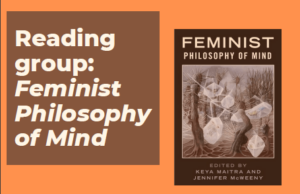 Patronage


---
Past events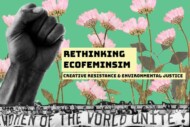 Creative Resistance and Environmental Justice: Rethinking Ecofeminism
19 October 2022, Online event.
The seminar Creative Resistance & Feminist Ecologies aims to bring researchers and activists from diverse academic traditions and differently situated lifeworlds in order to discuss questions related to ecofeminist futures. For this seminar series, we are interested in ecofeminist theory and praxis, its interconnections with other critical approaches, its relevance and potential for informing creative resistance and the pursuit of environmental and intersectional justice.

Programme

Patronage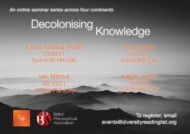 Decolonising Knowledge: An online seminar series across four continents
28 September – 19 October 2021, Online event.
Programme

Patronage
Northern Diversity Forum Workshop
21 November 2019, Seminar Room PZA/115, Piazza Building, University of York, UK.
Programme

Alya Khan (London Metropolitan University): Resisting the 'Mythical Norm' Today. Some Thoughts for Philosophy

21 November 2019, 2:00 pm UK time

Annie McCallion (University of Manchester): About "Women in Parenthesis"

21 November 2019, 3:30 pm UK time

Simon Fokt (independent): Diversity Reading List Workshop

21 November 2019, 4:45 pm UK time

Patronage