New Year, New Newsletter!
It seems like the year has barely started, and yet we're nearly in the middle of term! We have been very busy over this winter and are looking forward to telling you all about it.
News
We have just completed a massive List expansion!
First, the huge news. Thanks to generous funding from the APA Diversity Grant, tireless work of our grant holders, and a great deal of help from our team of volunteers, we have just added a whopping 351 new entries to the DRL, meaning you can now browse well over 1000 texts! This is the largest single expansion so far, and it was only possible thanks to the contributions of dozens of our readers all over the world (check out who they are here!). Since the DRL launched in 2015, we have received a great number of public contributions. There were so many, we have struggled to keep up with them ever since, and only now managed to catch up. So: we have officially no backlog now and all the texts contributed can be browsed on the site.
PhilPapers updates
As we added new texts to the DRL, we quickly discovered that many of them have not been featured on PhilPapers. We set out to fix this, adding around 50 new entries to PP, thus increasing the representation of authors from under-represented backgrounds on it.
New model for contributions
Having completed that project, we will now introduce a new model for public contributions, substantially cutting the time needed to publish entries. We would like to strongly encourage you to take this opportunity and send us more texts, which will appear on the site within days. You can contribute using our form here!
Stub entries
We are also now introducing a new type of entry. A 'stub entry', similarly as on Wikipedia, is an incomplete public contribution which might be lacking some elements (for example, a full teaching comment). We introduce it to speed up the process of publishing entries, and invite you to help us complete such entries. Each one of them will include links allowing you to send us your comments on how to complete it, and you will see your suggestions applied within days.
Volunteer Spotlight: Clotilde Torregrossa (she/her)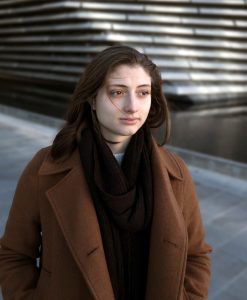 I am currently a fixed-term lecturer at the University of St Andrews where I got my PhD in January 2020. My work is on aesthetics and metaphilosophy and at the moment, I am particularly interested in conceptual engineering and social philosophy. I got involved with the DRL in 2017 when Simon Fokt asked me to manage our social media accounts (Facebook and Twitter). I have also been helping to maintain the list when and where I can, most recently by completing our APA-funded expansion (351 texts!) with Chris Blake-Turner.
What I love about working for the DRL is getting to see my colleagues making a habit to check the list when they write their syllabi or research their papers. The DRL is becoming, slowly but surely, a staple of academic philosophy and I am very proud to be able to participate in this change (even by posting and Facebook and tweeting!).
Get involved, get funded!
We continuously expand our list and you can help us by contributing papers via our contribution page.
We couldn't do what we do without the help of our fantastic volunteers. If you would like to join them and volunteer for us please get in touch! There are so many ways to get involved: reviewing public contributions; helping us with small one off jobs; becoming a regular editor; and promoting the DRL at events and online.
You might even be able to access funding to support your time working on the DRL like Clotilde Torregrossa (see above). We're keen to support any volunteers in getting this kind of funding. You can read more about this here.
Thanks so much again for all your support,
The DRL Team